Delivered by Mr. Adeola Austin Oyinlade on 11th October, 2018 at Roma Convention Center La Nuvola, Rome, Italy.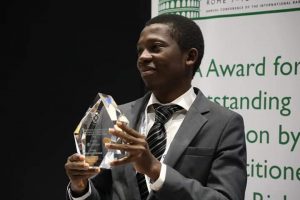 I want to thank the IBA and everyone involved in the nomination and selection process, for deeming me fit as honouree for this year's prestigious International Bar Association Human Rights Award.
I have always believed in using my voice, energy and legal expertise as tools of social engineering.  Being the voice for the voiceless, standing for what is right even if someone is standing alone, I believe should not be for today's gain but for the verdict of posterity.
As it appears to me, we are not short of preachers against human rights abuse or short of preaching against serial violations of human rights. We are only short of compliance with the rule of law.
My commitment to the defence of human rights began with the realization that the progress of my country, and the continent of Africa, rich in spiritual values, ethnic and cultural diversity, and the world at large would only be possible by simplifying and educating people on respect for human rights with innovations for peaceful co-existence and by offering pro-bono legal services to the disadvantage group where necessary as a law expert.
My type of rights empowerment under 'Know Your Rights Nigeria' initiative gives people the legal knowledge to keep them fully abreast of the whole gamut or corpus of rights available to them, equip them with the information needed to stand and defend them against infraction.
The 'Know-Your-Rights-Nigeria' app for Android, iPhone users in Nigeria and the web version simplify all human rights laws and safeguards in English, Pidgin, Hausa, Igbo and Yoruba languages spoken by over 100 million people with platforms where people engage me and my team of lawyers daily for free legal support. The project includes platforms where users report abuse anonymously, get safeguards on steps to take in the face of assaults and get connected to security forces for help, thereby pioneering the first ever human rights empowerment app in the most populous black nation in Africa where Nigerians and foreign nationals in Nigeria are beneficiaries.
At the continental level; through advocacy, I have been privileged to offer solutions to human rights issues in Africa including the South Sudan Crisis, the Central African Republic Crisis, the Congo DR Armed conflict among others with relative impact.
Recognition of this magnitude brings more responsibilities. Since the task that follows such responsibilities will give birth to deliverables and outcomes that will shape the world for better, I am happier and fully ready to carry on.
Finally, I will never forget those this honour also truly belongs to. It belongs to all the IBA Human Rights Award nominees, including lawyer colleagues here contributing immensely to expanding the frontiers of human rights; making the world fair and just to all and those not privileged to be here today. A lot of people directly and indirectly supported and inspired me in this social crusade. I thank my wife and children, my legal team at ADEOLA OYINLADE & CO (Law Firm) and the staff of Constitutional Rights Awareness and Liberty Initiative (CRALI), members of the Nigerian bar and the bench, US Consulate Lagos for its support in unveiling the rights empowerment app; Dr. Oby Ezekwesili of Bring Back Our Girls, Simi, Nigerian music sensation, Yomi Fabiyi for their voices among many other human rights advocates in Nigeria and across the continent of Africa that time will not permit me to mention. Thank you all.
As the world is commemorating the 70th anniversary of the Universal Declaration of Human Rights this year, we all have more work to do to make the world fair and just. The world is looking up to us (lawyers) to consistently use our legal expertise as a tool of social engineering and problem-solving. I believe and hope that we shall continue to apply our knowledge of law as a glue that holds the society together.
Thank you.
https://crali.com.ng/wp-content/uploads/2015/02/kyc.png
0
0
KnowYourRightsNigeria
https://crali.com.ng/wp-content/uploads/2015/02/kyc.png
KnowYourRightsNigeria
2018-10-25 19:00:47
2018-10-25 19:22:32
2018 IBA Human Rights Award Remark